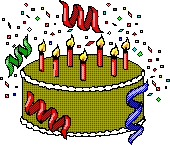 Click on Month name to find those listings.
January, February, March,
April, May, June,
July, August, September,
October, November, December,
danniegirl72
January 5
trapperjane2001
January 8
gingeroo2008
January 23
sharisoda
February 18
kreader
March 6
gsg3849
March 8
srpcep
March 24
emty_nstr
March 27
ellie_mite
April 11
blueyz_13_2000
May 8
loretta72401
May 19
elhogan
May 21
jaybee458
June 12
mmogle
June 16
falcon58
June 20th
gmapat539
June 28
klrambo
July 28
jennimene
July 28
agingfilly
July 31
jackieiv51
August 4th
rjohn99
August 9
justjudy75
August 16
bunkodeb
August 17
bumblebee50
September 27
krsecond3
September 29
jopenni
November 5
ep99004
December 1
battrup
December 2
oahe
December 7
brenner129
December 9
meska44
December 19
quite_contrary
December 19
ladybugpam
December 29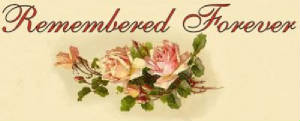 Beyond The Rainbow's End
Beyond the rainbow's end, there lies
The land of love and light,
Where shadows never dim the skies,
For there ~~ there is no night.

And though the loss is hard to bear
Of loved one, or of friend,
We know that we shall find them there ~~
Beyond the rainbow's end.

Katherine Nelson Davis

nonee71
Marina
Ohio(Southeast)
November 6
- went to be with The Master in May of 2006 -
Our precious MamaBlu.
Mother to Blueyz.
Friend to us all.
Taken to be with her Maker in
August 2009